- February 7, 2009 – 12:57 am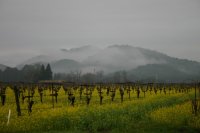 With the fog in the hills and the wild mustard in the foreground I must be in the best place on Earth! So here I am on my way to the office and couldn't pass up this opportunity to catch this shot.  When I reflect on the seasons in the Napa Valley I never get tired of the views that unveil themselves throughout the year.
When I turn on the TV, read a newspaper or scan the Net all I see is doom and gloom.  However, when I make way up the valley each day I can't help but wonder if our Country's mood would be improved if they had my daily view.  I am blessed to live in such a wonderful place which provides me with the inspiration to help others. Whether it is working with our customers to help them realize their dreams or making sure our local kids get hands-on "real life" education I find it much easier to take the high road.
I ask that you look around and see if you and others are in the fog of negativity.  If so, I challenge you to make a change in your daily habits to breakout of your routine.  Sometimes you need to get a different perspective to recognize that opportunities often lie in these situations.
Until next time…clarity can come from just taking a different look.
Post a comment