- April 28, 2009 – 3:14 pm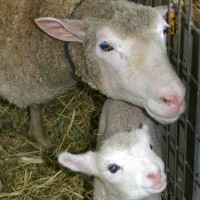 I had the opportunity to join my 17 year old daughter this week at 6:30 a.m. at Robert Sinskey Vineyards to help build a makeshift corral and then watch her help the vineyard manager, Debby herd the sheep from the pasture into the holding area.  
I got the chance to see nature's latest gift of lambs.  The young one in the picture is about 2 weeks old.  My daughter got to return a new born to its mom when she was in the pasture.  It is hard to believe these little guys and gals will grow so quickly and will soon be helping the vineyard manager.  That's right Sinskey puts the sheep to work in there vineyards.  They are great harvesters of the ground cover.  Being organically farmed vineyards results in creative ways of  getting the job done. 
Given the state of the economy I think we are all being tested at our creativity.   Then again that is what has made America great over the ages.  When it gets tough we dig deep inside and find a way to get the job done, quicker and better than before.  This is your chance to make a positive impact just like that mother and daughter in the vineyard.
Until next time…Spring is in the air.
Post a comment