- July 30, 2009 – 2:31 am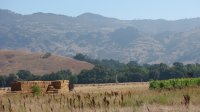 I was driving through Napa with the air in my face on a perfect day when I saw this hay neatly stacked.  I had to pull over like a tourist and take a picture. The weather was cool, the scenery delightful.  I saw this as a symbol. 
It certainly is time for us all  to make hay. The sun is shining on the valley, customers are coming to visit, and the grapes are doing their thing on the vines.  We all have a rare opportunity to make a lasting impression – to ensure that every visitor to our tasting rooms can't wait to come back .  Whether it's the perfect cheese to go with the perfect wine from V. Sattui, or the perfect Cabernet plus an amazing view from the deck at Viader, or a special day plus bubbly at Domain Carneros, or a divine Sauvignon Blanc from St. Supery served expertly by a member of their tasting room, or a new Point of View courtesy of Robert Sinskey Vineyards, or a custom blend made by each visitor in the tasting room at Conn Creek, there's a lot of hay being made in Napa Valley.
Aren't we lucky to have so much time in the sun?
Post a comment