- August 29, 2009 – 6:49 pm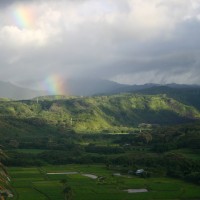 Here we are in the middle of an economic mess.  The headlines read 'we've hit bottom', 'turnaround is near', rebound will be gradual' and on an on.  I am frankly tired of all the negative news, so I decided to jump back into my recent photo albums to see what I could discover.   It didn't take long for me to find the picture above. 
While on vacation in Kauai I was in full tourist mode.  Of course, I had to stop at all the lookout points.  However, when I stepped from the car and looked at the valley below and mountains in the background my jaw dropped.  This was going to be a "Kodak Moment".  My senses quickly were overwhelmed with the fragrance of wildflowers, a recent rain, and the colors all around.  I began snapping pictures from every angle.  My family was busily taking it on in too.  After about 10 minutes we decided it was time to move on.  As we piled back into the car I took one last look and then it happened.
The sun broke through the clouds and a rainbow began to form.  I jumped from the car, camera in hand and moved quickly into position. 
Photography is about understanding how light impacts an image.  I knew the image before me would be changing and I needed to move quickly to find the optimum light.  Wow, there it was a rainbow split in two by the clouds.  And just as quickly as it formed, it was gone.
So where is the ray of light in our current business environment?  I think it is out there but you need to be preparing for it now.  Plans need to be in place so you can act quickly and respond when the light  is right.  Being ready to capitalize will take a lot of creativity.  This means you'll be best served by incorporating your team into the conversation.  Having different points of view and a variety of personalities at the table will create the synergy needed to find that gold nugget awaiting you.
Until next time…you may not find gold at the end of the rainbow but it may lie within your team.
Post a comment