- March 31, 2010 – 12:36 am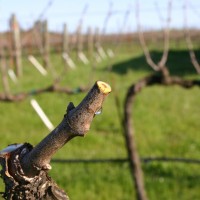 On a recent fieldtrip into a Carneros vineyard I got to experience first-hand the pruning process.  It was a chilly morning and some vineyards had the wind machines running.  It was time to test them before the upcoming frost season.  As the sun's rays began to warm me up I was anxious to discover more about the tasks before us.
Dubbed as the most important activity of the year, pruning requires a focus on each vine.  Understanding the life stage of the vine and what you are trying to accomplish with positioning the wood and bud spurs can have a significant impact on future fruit productivity.  
As I watched the fabulous tasting room team from Robert Sinskey Vineyards try their hand at pruning, I was surprised at the amount of effort and concentration it took to prune each vine.  Granted, for many this was their first time pruning a vine but they were focused and wanted to get it right! 
After the fresh vine had been cut, I was surprised to see the "juices" flowing.  Even though it had been near freezing the night before the roots beneath the soil were waking up and sending nourishment upward.  In just a few weeks those tight closed buds would burst open with new life and the cycle would begin again.
As March goes out with a roar many of the vineyards are springing forth with new life.  The small green leaves will soon become vines and the once quiet gnarly vines will turn the Napa Valley into a bounty of beauty.
With all of the signs of Spring around us, it is time to take advantage of all that life has put before you.  Be sure to celebrate every success you or an employees has.  No matter how small the win, it is important to recognize that it is a step forward which sure beats the alternative.
Until next time…just like the life that returns to a vineyard each spring you too can grow when you focus on what is important.
Post a comment