- May 31, 2010 – 4:14 pm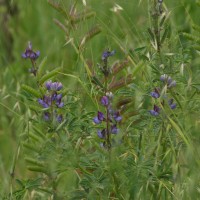 May has quickly come to a close and the wildflowers are appreciating the rain and occasional bursts of warmth this past month.  Now what lies ahead for the Napa Valley?  I know the wildflowers will continue to paint the landscape with their beauty and the vineyards will soon begin to flower with fruit set following shortly. 
Will the buzz (not from bees) of tourists return to our hotels and inns?  2009 tourism was off only slightly from 2008 while overnight travel was down significantly.  This meant we had a lot of day trippers in the valley who were holding on tightly to their wallets. 
2010 is shaping up to be a pretty good year so far.  The roadways are filling and the cash registers are ringing.   Many wineries are preparing to release  their long awaited 2007 vintage.   2007 is showing really well and is expected to be in high demand.  Ah, music to a vintner's ear.
So what are your plans to welcome back our visitors from near and far?  People are still looking for a good value. 
Now there is an over used word of late, "value".   Does value mean you give away the store to make a sale?  Discounting is the easy way out.  What value is created by lowering your price?  A changed perception may result but that isn't necessarily considered a value. 
I think everyone just wants to be appreciated for their willingness to come to your winery.  Considering a visitor only chooses 3 or 4 wineries to visit,  we shouldn't take for granted that the same folks are going to show up each year.  Humans are pretty predictable but they are not a flock of migrating birds that return to the same place annually. 
Given that we may only have one shot to make a lasting impression wouldn't it be in your best interest to make sure your team is at the top of their game?  It takes effort and passion to be successful.  This holds true for everyone on your team, but especially your frontline people who interact with guests.  This is why it is so important to hire the right people and to continually support them in improving their skills. 
I encourage you to try new ways to share your winery's message.  Use the beginning of the week to test various strategies.  Over the course of the week you can fine tune and decide if your strategy is ready for the high volume of Friday through Sunday.  It is much better to learn from your mistakes at the beginning of the week than to try and recover from a weekend failure.
Until next time…may your wildflowers continue to blossom – bringing new ideas and energy for capturing your guests' imagination.
Post a comment