- October 29, 2010 – 3:24 pm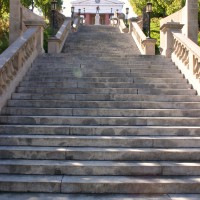 Wow, what a climb!  Do you ever feel like there are just too many steps before you? On my recent business trip to the East coast I spent a day in Lynchburg, VA to visit family.  While out and about as a tourist I came across these 132 steps.  They serve as a memorial for local veterans dating back to WWI.  As I ascended the  steps and read each of the memorials I began to reflect on all of those who have given up so much, often their lives, so that I might have freedom.  I don't want to sound cheesy but I have amazing opportunities thanks to these folks. 
So, what do all of these steps have to do with you?  Let's see, freedom to… choose, decide, speak, vote and learn from our mistakes.  How have you managed with this responsibility?  If you're like me, you probably haven't given it much thought.  It's a way of life, isn't it?  The current recession seems to have shocked us awake — it isn't business as usual.  Although our freedom has not been impacted,  our way of life has.  There are positive signs that the economy is moving forward but at a very slow pace.  I think it will take many years before we are running like a well-oiled machine.  Which brings me  to the point of this blog.
Reaching the top may require you to ascend many steps.  Do you have the patience to trudge ahead?  Will you follow the same path that got you there before?  Is there a better way to get there?  Do you want to arrive at the same place or is there something better awaiting those who venture off the beaten path?  My hope for you is that you take the time to focus your attention on answering these questions for yourself. 
Until next time…if you don't like the race you're running maybe it is time to rethink how you're going to reach the finish line.
Post a comment