- February 11, 2011 – 11:52 am
At least once a month, I make the drive from Napa to Modesto on Highway 12. It's a long drive, especially when I start out early in the morning without ample caffeine. As most locals are aware, the road is mostly two-lane highway through fields so the drive can quickly become monotonous. It is easy to lose sight of the speed limit during some of the long stretches. I'm not intending to break the law by exceeding the speed limit, sometimes I just lose focus. 
But there are a couple of stretches on the road where I pay extra attention to my driving speed.
It has to do with these signs.
Not only do these signs get my attention, they  also cause me to change behavior. I actually try to reduce my speed to get under the posted speed limit.  I enjoy seeing the relationship between my actions (putting pedal to the metal) and the digital numbers on that sign. I am motivated by information and by the connection between my behavior and the resulting outcomes.
Compare my  response to the top sign with my response to the speed limit sign below.  
This doesn't get my attention.
I probably don't notice this sign.  I may glance around to see if there is actual enforcement in the area, but generally these signs don't get me to change behavior. Potential punishment does not effectively motivate me to change behavior.
Now let's consider what might happen if I were offered a small reward for going the speed limit or less. Do you think I would pay more attention if I passed this sign on Highway 12?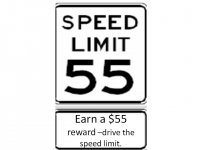 Will this sign get my attention? Will it make me change my behavior?
I may pay attention to this sign, because it's certainly unusual. I doubt it will make me adjust my speed for long.
How would each of these different approaches work for you?
Now take these ideas and apply them to your team, your staff, and your co-workers. Which of these three methods have you applied when trying to change behavior? Most of us use either rewards or punishment to drive our teams to take certain actions. 
What if you tried giving people more immediate feedback? Tie their actions to the outcomes you are measuring. Show them how they move the needle by capturing one more e-mail address for your database, by adding one more bottle of Cabernet Sauvignion to each tasting room sale, or by connecting with one more twitter fan.  Give individual actions meaning by showing each person how they contribute to the big picture.
Motivation is not always about money. Sometimes it just takes a couple of blinking lights.
Comments (1)