- September 21, 2011 – 5:43 pm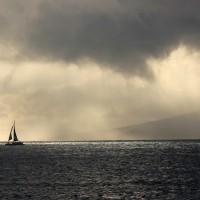 What direction are you sailing?  The wine industry is showing positive signs that the storm has passed and a bright future is just beyond the horizon.  However, I don't think the industry can fall into a false sense of security that it is going to be the good old days again.  I have heard a lot of chatter that the customer has changed.  They are looking for a deal or not purchasing.  I think there is something else at play.
The day of order-taking is over!  The perception of value lies in the impression that you give your guest and nowhere else.  What can you do to improve their impression?  Based upon the typical tasting room experience, there is plenty to be done.
I recently visited two tasting rooms one afternon in the Napa Valley.  The first was a famous destination where I was part of a private tasting.  The grounds were beautiful!  The tasting? Well it was so so.  The wines were pretty good, but I was looking for more…not wine, but an experience.  So, down the road I went.
My next stop was at a small family-owned winery.  The grounds were nothing special.  The tasting room consisted of a folding table with the barrel room just beyond the wall.  The tasting…awesome!  Why?  An employee who loved his job and the family he worked for!  It showed in everything he did.  The surprise for me was to see the owner/vintner in the tasting room the entire time I was there.  He met the guests and chatted with them.  Here was someone who knew how to separate his winery from so many others.  It wasn't an over the top facility…just the opposite.  The wines…incredible.  But most of all, it was people who loved building relationships with others.
As the wine industry continues to move forward, I hope that many will step up and improve their guest experience.  It truly is the value consumers are looking for.  Just remember that each person coming in contact with your winery is a guest first!  Customer second! Wine Club member third! Ambassador for life!
Until next time…which way will you sail?
Post a comment