- October 18, 2011 – 5:10 pm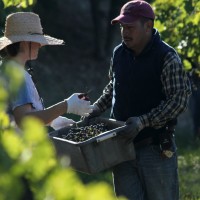 The Napa Valley is a buzz with harvest in full swing.  I recently had the opportunity to join a grape harvest crew.  Let me clarify, my camera and I followed along to observe  the hospitality team  jumping in and helping the vineyard crew with grape picking.  It reminded me of the times when I was a kid and would get real excited about getting to do a "grown-up" task.  The anticipation was always more exciting than the actual work.  Sure, the first hour was fun but then it became a job and wasn't fun anymore.  In this instance, the hospitality team were just as excited as they climbed up the hillside with shears in-hand.
The vineyard manager showed them what grapes to pick.  It was now their turn.  Away they went snipping and clipping away.  Grape bunches were quickly filling their plastic bins.  The full-time vineyard crews were quickly moving past the newbies and although I didn't understand their comments I could tell by their tone that they knew these folks couldn't keep up with them and would surely collapse under the heat of the rising sun.
Oh boy, everyone was having such a good time.  The team spirit was flying high and  even when the vineyard foreman pointed out grapes being missed, they would quickly correct their mistakes.  That's the fun part — being able to walk in someone else's shoes for the moment.  It allows you to learn something new but at the same time provides a greater appreciation for what is really involved.
For the hospitality team, they walked away with a few new blisters and a great story to share with their guests arriving later that day.  But even greater is the fact that each employee recognized that they are part of a team that requires everyone to be at their best to achieve success.
Until next time…try walking in another's shoes sometime and discover how important they are to you.
Post a comment