- November 16, 2012 – 2:33 pm
Currently, I do not watch a lot of television.  With 100 channels available, I frequently cannot find a single thing interesting to watch.  However, I have found a guilty pleasure — a sequin among the remnants, if you will — in the so-called "Reality TV" category of entertainment.  I confess here and now that I like to watch Project Runway.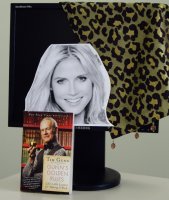 No, I don't look like anything Heidi Klum (I am way too short and have long since lost my horizontal hold) nor am I anywhere near as fashion conscious as  Tim Gunn (although I do think he's sweet).
No, the reason I like to watch Project Runway is that to me, in a weird sort of way, it parallels the process that we go through as accountants.
What on earth, you ask, is she thinking?  Bear with me.  Yes, I know that I was in Mendocino a couple of weeks ago and was accidentally exposed to some second-hand smoke, but I am serious about this.
Each week on Project Runway, the contestants are given a set of parameters, a dollar budget, and a challenge.  They have a relatively short period of time to arrive at their best or most attractive "solution" to address this challenge.
As accountants, we receive information from our customers, work for a fixed fee (dollar budget), and are also striving to produce a quality product (financial statements, a tax return, a business valuation, etc.).  Like the contestants on Project Runway, what we do is about taking materials available and attempting to fashion the best possible result or to  "make it work" in the words of Tim Gunn.  This frequently involves frustration, reworking, or thinking outside of our comfort zone.  Still, every now and then, we get "voted off the show", in spite of our best efforts which is the fate of one designer each week.
While accountants may not be doing anything as newsworthy and flashy as showing a collection at New York Fashion Week, we always want our customers to walk out feeling great about our work.  Achieving a thoughtful, innovative, and well crafted solution is just as important to us as it is to the Project Runway designers.
Project Accountant?  You bet!
Comments (2)