Life lessons from the bowling alley. 
Brotemarkle, Davis and Company proudly fielded two co-ed teams of 5 people each to participate in the Wine Industry Network 2010 Gutterball Classic fundraiser last Saturday.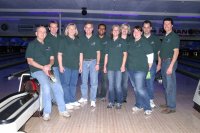 First of all, you have to wonder who decided to associate all of those unfavorable words with this game.  You play the entire game in an "alley" for goodness sakes. That doesn't sound like the kind of place you want to be after dark.
And then there's the "gutter", which for some of …