- May 1, 2009 – 9:42 pm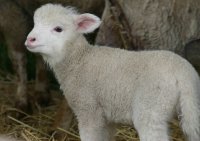 I recently had the opportunity to watch many newborns like this gal, follow their mom's throughout the pasture.  How quickly they learn that mom provides food and safety.
Looking around the wine industry it might be a good time to be small.  Like the lamb, the smaller winery is nimble and can change course quickly.  This is no time to be stuck in your ways.  Creative thinking and execution are essential in this very challenging marketplace.
You may be feeling the pressure to lower …
Post a comment